Get Your Tickets for Yorkshire Cosplay Con Now!
Yorkshire Cosplay Con 2016
11th and 12th June 2016 at Sheffield Arena, S9 2DF
This Summer, why not join the thousands of Anime, Cosplay, Comic Book, Sci-Fi and Video Gaming fans, as they embark on the ultimate, fun-packed weekend out at the Sheffield Arena?
To purchase tickets visit the
Sheffield Arena Yorkshire Cosplay Con 2016 event page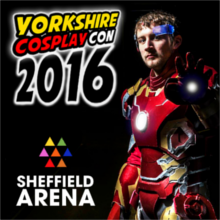 To buy tickets for our events please visit: Skiddle or call 0844 884 2920.
Skiddle.com is the official ticket outlet for Yorkshire Cosplay Con. All credit card purchases you make at Skiddle.com are encrypted through our Secure Server Technology
If you are having any issues ordering your tickets please email us at
info@yorkshirecosplaycon.co.uk